Win Big this 2020 Election through Promotional Products
Promotional Products- the secret to the astounding election success of President Donald Trump.
The Advertising Specialty Institute (ASI) published an article that showed promotional products indeed played a critical role in the race for our nation's highest office in 2016.
It was stated there that the unexpected rise of President Donald Trump was brought about by his millions of investment in promotional products.
Trump used approximately 9.8% of his total campaign spending on promo items, a ratio which is much more compared to his competitors. Political campaigns and promo products go hand in hand. Promo items are visible anywhere during campaigns and elections. While utilizing promo items for political purposes has been proven effective historically, you still have to make sure that the right strategies are employed to empower your political brand immeasurably.
Considering the impact that promotional products have on your political campaigns, you might want to check the following promo products that are tried and tested in enhancing political branding whether you need something to give to your donors or something to hand out to your supporters.
Custom campaign t-shirts are requisite tools to show support for any candidate. You may take advantage of the promo price of bulk orders for election t-shirts. This campaign apparel can be worn to most events, and are easy to customize with your custom screen printed campaign logo. You may choose a plain t-shirt or polo ones.
Depending on the timing of campaigns, sometimes the weather of a state could make election t-shirts insufficient. So, for politicians running for office in cold-weather states, custom campaign jackets are a great addition. Mark your custom printed or embroidered campaign logo to our collection of custom sweatshirts and hoodies to make sure that your constituents can show their support for you regardless of the weather.
The simple campaign slogan embroidered on a baseball cap during the last 2016 Presidential election will show that we cannot understate the power of caps or hats. Your custom embroidered political campaign logo can be embossed to our wide selection of custom caps or hats.
CUSTOM CAMPAIGN MUGS AND TUMBLERS
Who doesn't get thirsty during campaigns? Ensure your campaign staff and your supporters are supplied with some custom water bottles, tumbler cups, or coffee mugs with your campaign logo. Make sure your name float in their heads by simply keeping them hydrated.
You will never go wrong with a promo desk item for both your campaign staff and your supporters alike. Personalized notebooks and journals make brilliant promotional giveaways at any campaign events. Why not bundle your custom notebooks with a matching pen featuring your custom engraved or printed campaign logo? Promotional pens are a cheap yet effective way to get your political brand notable to potential voters.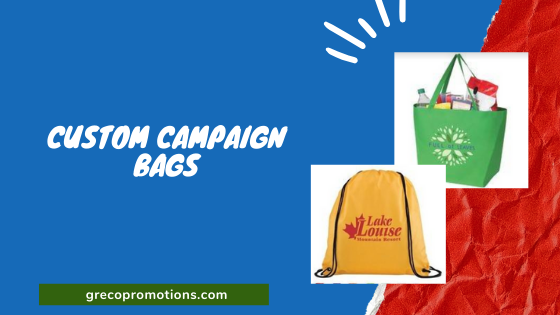 Bags are used by anyone anywhere. The hottest and most popular types of promotional bags are custom drawstring bags and embroidered tote bags. Remember, your promotional products aren't complete without a custom backpack or bag to carry everything.
Rain or shine, the clock is ticking for the campaign period. More often than not, campaign events or speaking engagements are conducted outside. Given that the weather is unpredictable, it's wise to be prepared with custom campaign umbrellas featuring your political logo. Your whole team and devoted supporters will definitely love this handy and useful item.
How about getting some creative Keychains imprinted for your campaign event? Key chains come in lots of fun shapes. They are the number one yet low-cost giveaway for any election campaign. Choose keychains that are fun yet functional.\
Win the Race with Custom Campaign Items
When it comes to politics you don't want to underestimate the power of a good promo item. Choosing the right promotional campaign product will make or break the voter's impression about you. Now that you got the basic campaign item ideas for your political race, let's get started! Check more ideas from our complete Promotional Products Collection at Greco Promotions.
---